We are 3 weeks and 3 days in to our European extravaganza and I'm sitting in a Starbucks (I know, I know, don't judge me. It's 30 steps from our flat) in Edinburgh. The bustling capital of Scotland boasts around 1.3 million people in the metro area and truth be told, is a truly fantastic city that's grossly under marketed in the States. We started our trip in Keswick, England – a tiny town in the lush Lake District, then spent a week and a half running around the Scottish Highlands. But more on all that later. I want to document what we packed and hopefully help you with your overseas packing list when the time comes.
We are here to hike, explore, and be active, so our wardrobe limits us to those activities. No theatre trips or fine dining will be done this time, (it's not like that's happening with a six year old in tow) so why bring a bring a bunch of unnecessary crap anyway? We each have a carry-on sized bag and a backpack. I stretched my minimalism to the max this time and am so happy I did. We ended up having extra room, so I was able to bring our own toiletries and some extra health related supplements, which have come to the rescue several times already.
Let's start with what Kyle got to bring.
Clothing:
1 pair waterproof hiking shoes
1 pair house shoes
1 pair Toms (not pictured, my bad)
1 rain jacket
1 down jacket
2 pairs of pants: North Face and Columbia, no jeans or anything bulky and/or difficult to get dry sans a dryer
2 pullovers
1 base layer: long sleeve top and long john style pants that fit under both of his pairs of pants
1 pair fuzzy pajama pants
1 hat
1 warm winter hat
1 pair gloves
4 synthetic material t-shirts
3 cotton t-shirts
3 pairs shorts
7 pairs of socks
7 pairs of underwear
Which packed down to: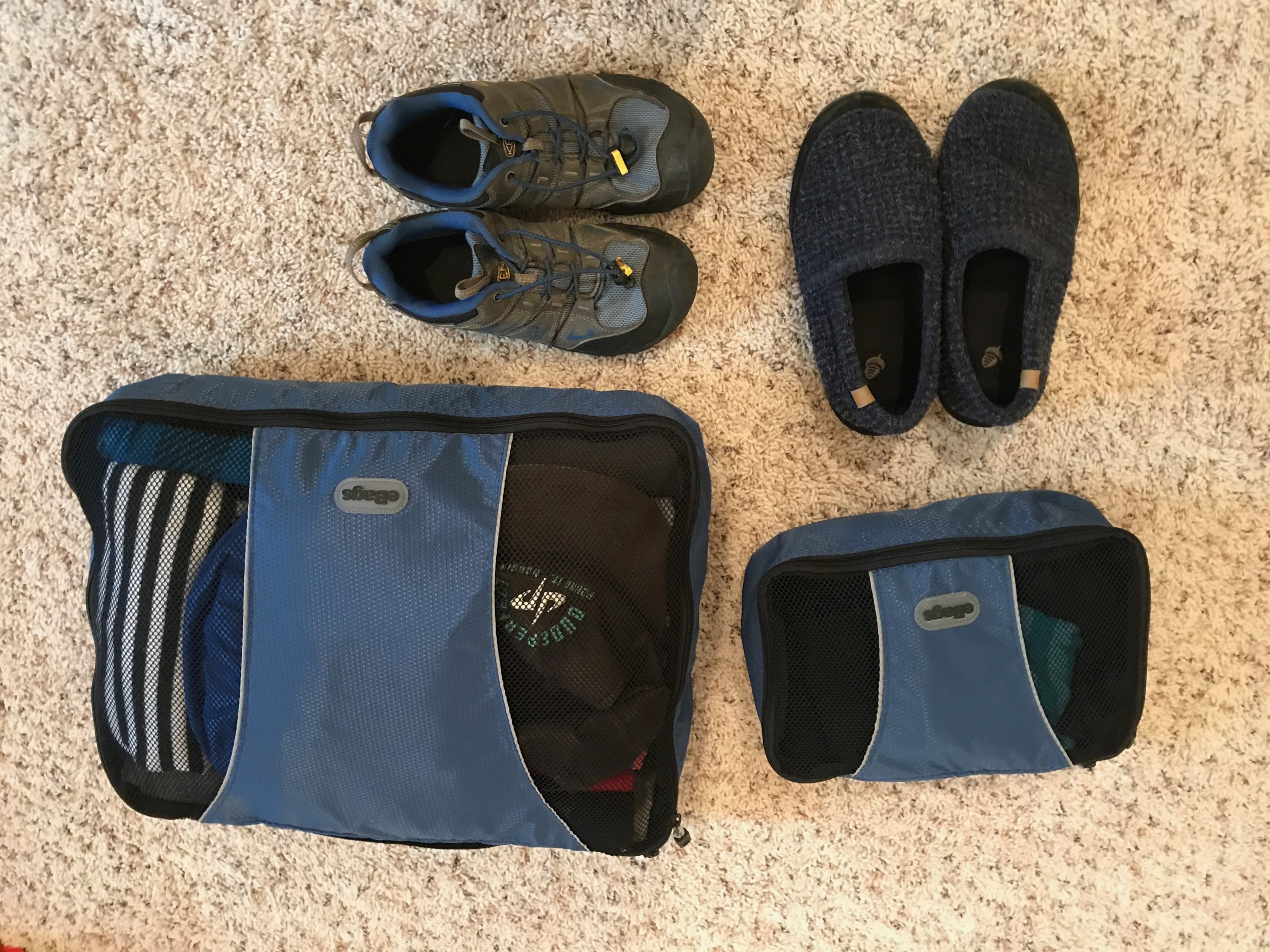 *I have pictured that he ended up with 2 packing cubes, but I ended up stuffing everything in to the larger one on packing day.
Kyle's other stuff, all of which fit in to his little backpack: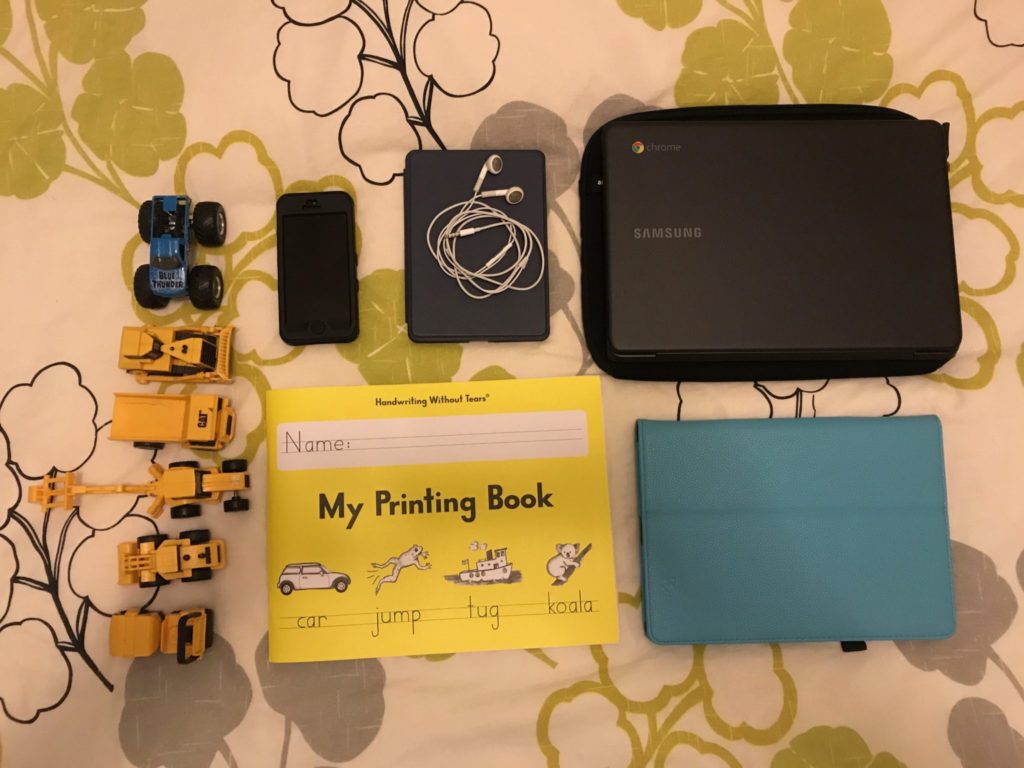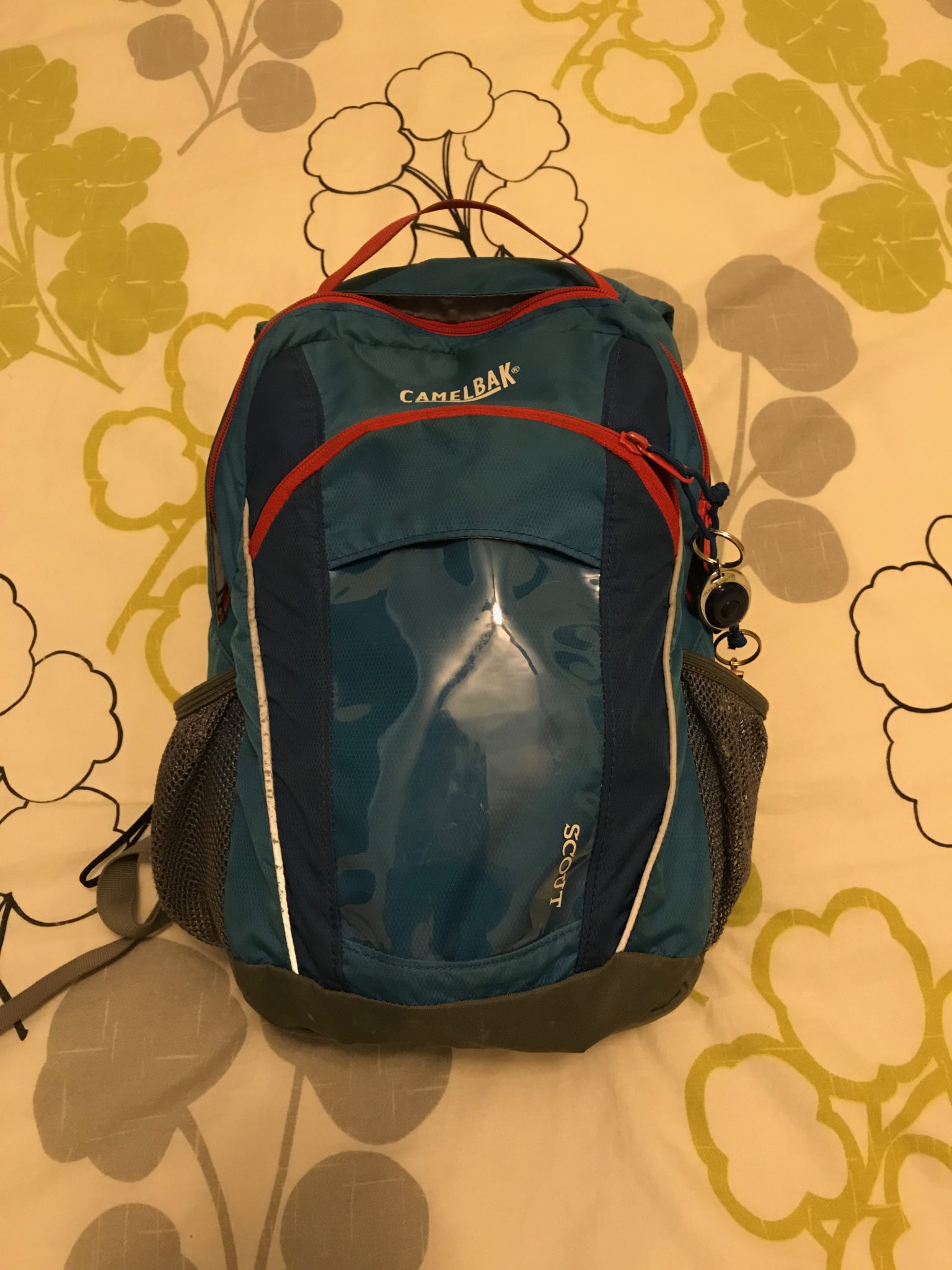 Toothbrush
Toothpaste
A comb
Kangaroo – dirty stuffed animal #1
Lizzie – green lizard that he sadly lost in Keswick. This is the first stuffed animal he's lost and it was pretty heartbreaking (not just for him). Lizzie has since been replaced by a cuddly stuffed chocolate lab puppy, aptly named: Maverick (Travis' childhood dog's namesake).
3 trucks (I have 6 pictured here but had him cut that in half. Good thing because he's only played with one thus far).
1 old iPhone that he gets to use as his camera (Thanks Lolo!)
1 kindle
1 pair headphones
1 laptop for homeschooling
1 iPad (it's mine, but he's the primary user)
1 Handwriting Without Tears practice book with 2 mechanical pencils
A Garmin Vivofit Jr. fitness tracker watch. Not pictured here because when his great grandmother gave it to him he vowed to never take it off. No joke. We practically had to pry it off his wrist to change the battery a few weeks ago. And no, our child certainly doesn't need a fitness tracker, but it's proven to be phenomenal on long hikes. Kyle is very competitive (no idea where he gets that) and always wants to have the day's highest step count, which keeps him going and going and going like a little Energizer Battery.
*we also had to bring a booster seat for him. Kind of sucks because it's big, but oh well.
That's it for the little guy!
After several hikes in pouring down rain we ended up purchased a more legitimate high-top pair of waterproof boots for him and that's been a life saver. His low top hiking shoes worked fine, except that when you're walking through 2-3" of water or more, it just comes pouring over the top of short shoes. On a similar note, after one rainy hike where our bottom halves become completely drenched we bought waterproof over-pants for each of us. And as it often happens after you buy something you deem necessary, we haven't had a rainy hiking occasion to use them yet. It's going to happen though, and we're going to look awesome.
Up next, Travis.
Clothes: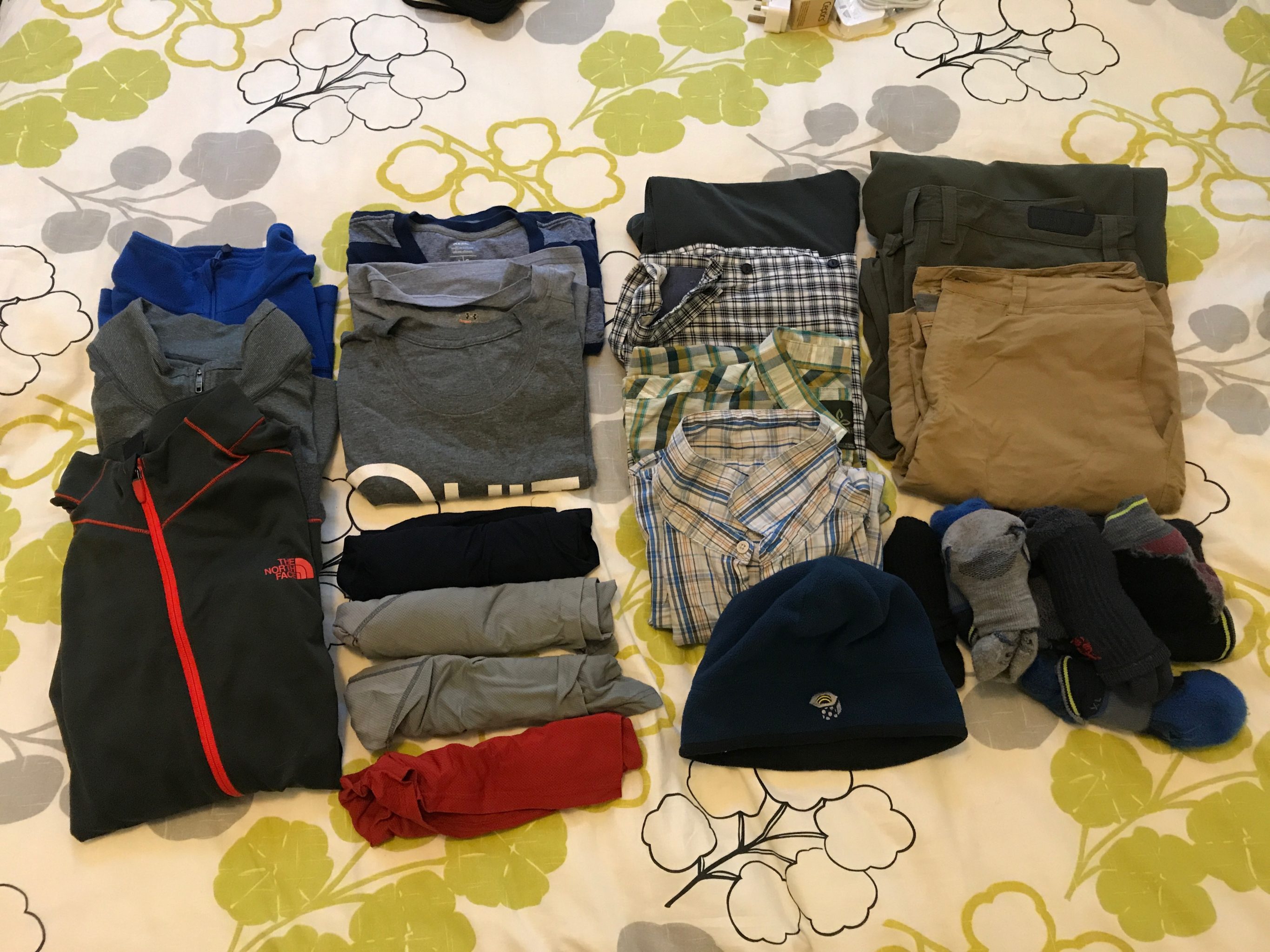 1 light jacket
1 down jacket
1 fleece pullover
1 long sleeved shirt
3 t-shirts
3 short sleeved button down shirts
5 pairs underwear
1 warm hat
1 cap
7 pairs of socks
1 pair of shorts
1 pair synthetic material hiking pants
1 pair J Crew jean style gray pants
1 pair of Vans
1 pair of Brooks waterproof running shoes for hiking
1 waterproof rain jacket
Other Stuff: everything pictured below + a change of clothes for the plane ride in his carry on backpack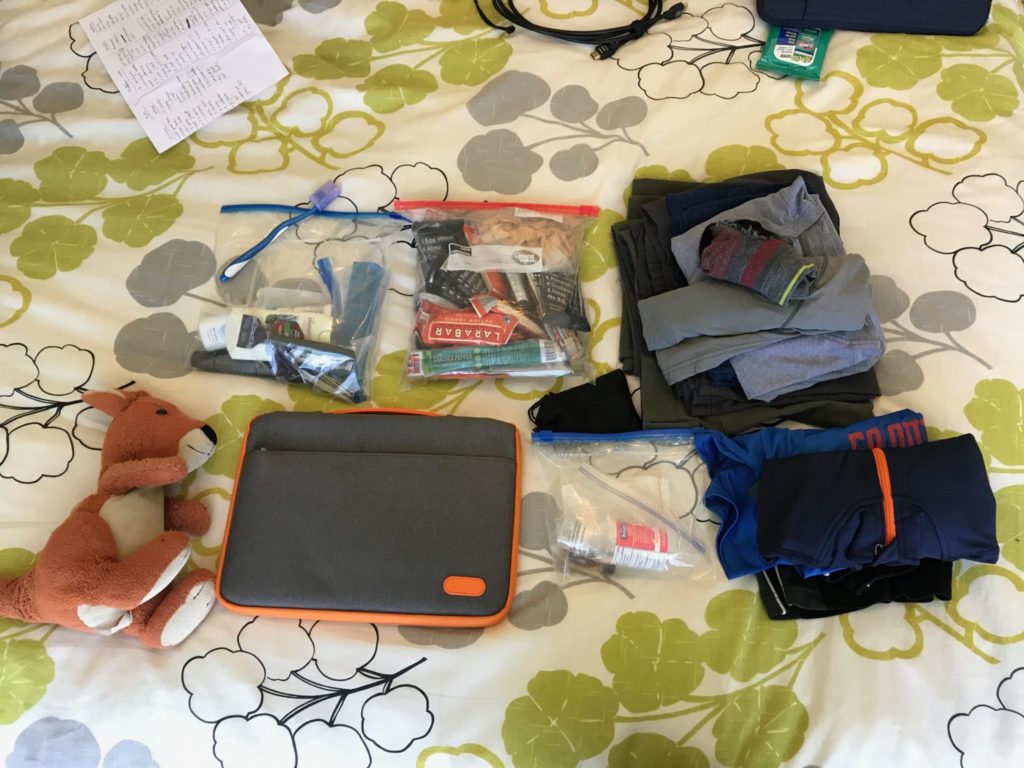 1 laptop with case and charger
1 iPhone with charger
1 iPad
1 multi usb charger
3 plug converters
Toothbrush
Toothpaste
Melatonin
Razor and electric razor
Deodorant
Baby powder
Hair paste
Vitamin container
Flashlight
Nail clippers
HDMI cable (so we can watch Netflix, etc from our laptops on regular TVs)
Amanda:
The general rule with packing in situations like this is that every top must go with every bottom. I think I totally nailed that with the exception of 1 top not going with 1 pair of pants. That's pretty good, just sayin'.
Clothes: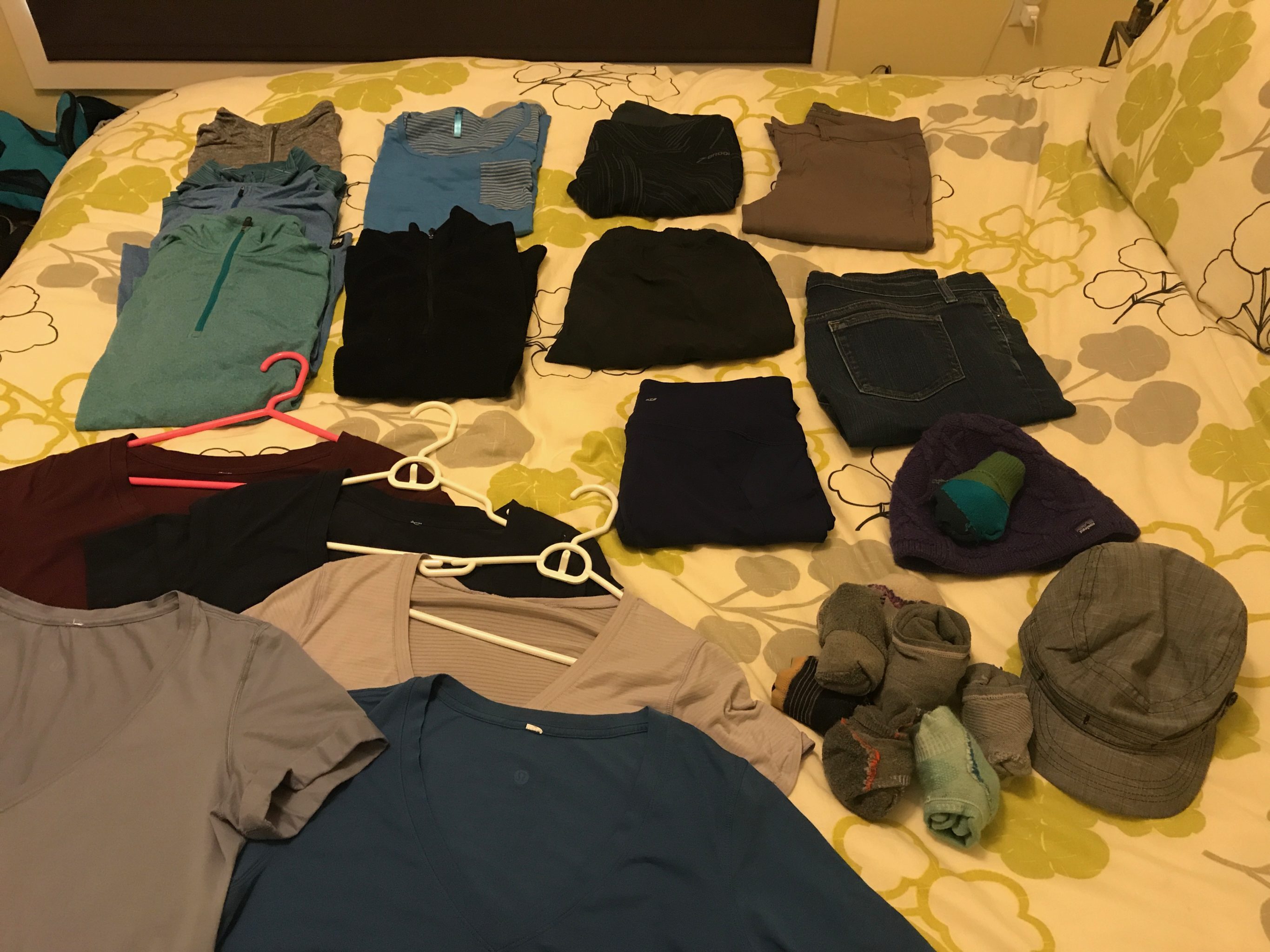 3 one quarter zip synthetic long sleeved shirts – I wore these all summer to hike in and they're perfect for this occasion
5 synthetic material Lululemon t-shirts
1 Kuhl brand 3/4 length shirt – this is my "nice" shirt y'all ; )
1 black fleece pullover – Marmot, purchased at REI
1 pair of full length Lululemon compression tights – AMAZING!
1 pair gray Prana pants – light enough to hike in but easy to dress up a little
1 pair of capri tights – Brooks brand, purchased at REI
1 pair of synthetic material capris – Athleta
1 pair of blue jeans – J Crew
1 warm hat
1 pair of gloves
1 casual hat
7 pairs of socks – mix of Smartwool and Feetures
8 pairs of underwear – Patagonia
1 pair of Brooks waterproof running shoes for hiking
1 pair of burgundy Toms
1 down vest (thanks, mom!) – Marmot
1 down jacket – Marmot
1 waterproof rain jacket – Marmot
*I frequently get asked specific questions about my traveling wardrobe, hence the brand references.
Here's everything else I packed split in to 2 pictures: some of which went in to my carry-on and everything was distributed in to our checked bags wherever it would fit: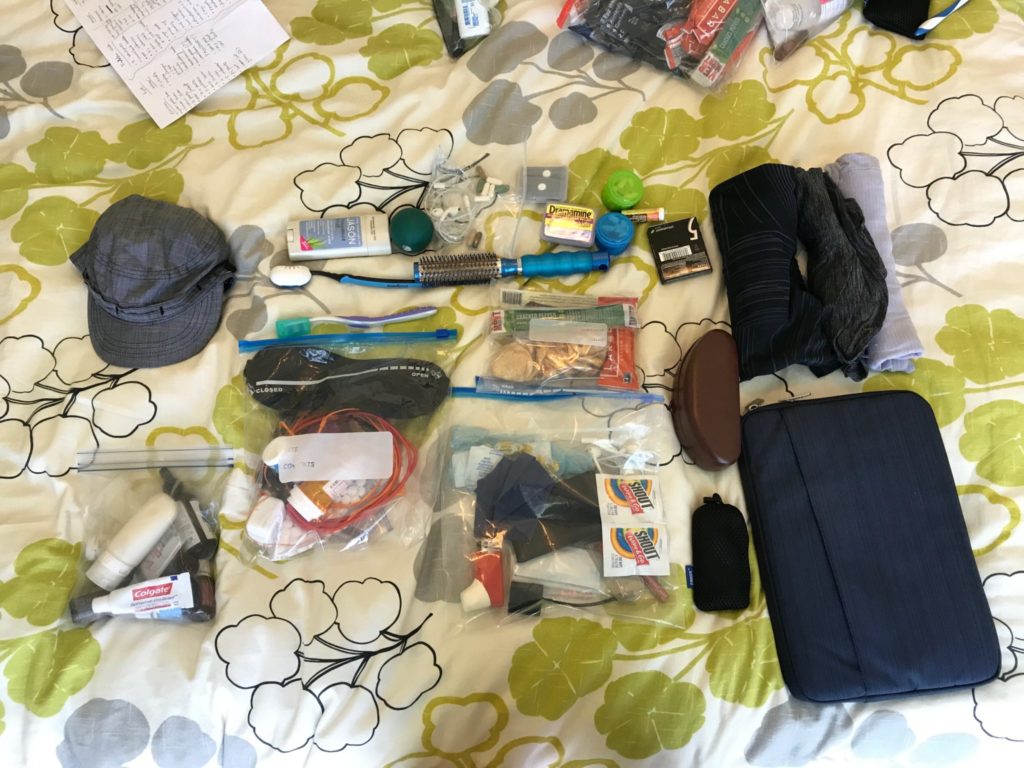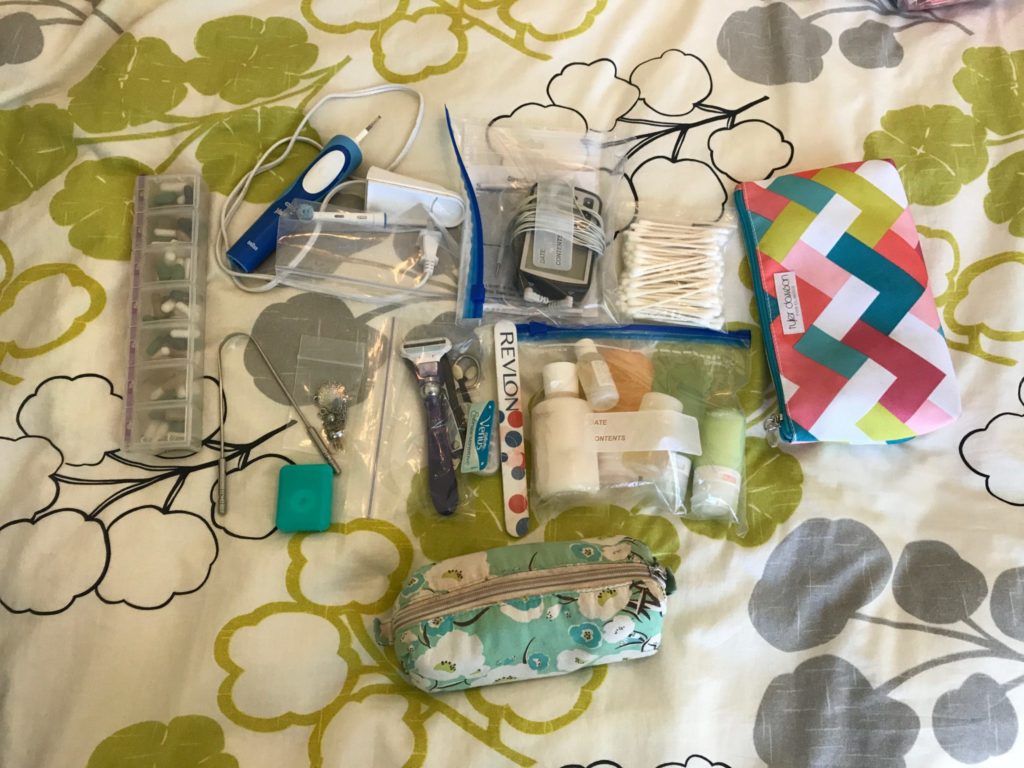 Toothpaste
Toothbrush
Electric toothbrush
Floss
Hairbrush
Small bag of feminine products, but my go-to is a Diva cup, so I didn't have to bring much extra
Small make-up bag
Tongue scraper
2 pairs of earrings and 2 necklaces
Razor with 1 extra blade
Nail clippers
Small scissors
Tweezer
Small baggie of q-tips
Very small tens unit: life savor for me if I have a major pain problem
Nail file
Seabands for motion sickness
Gum
Sunglasses with case
Sooo much chapstick
Hand lotion – 1 full and 1 refillable travel sized bottle
Headphones
Small wallet
Glasses cleaning cloth
AirPods – I was super skeptical at first about getting these, but I love them and highly recommend them.
Shout wipes\
Headphone splitter
Lip glass
Glasses screwdriver tool thing in case of emergency
Bandaids
Laptop with case (me and T are sharing a charger)
iPhone with charger
2 little bottles of assorted pills – one for bedside table and one for my backpack.About 10 different essential oils (OnGuard, Theives (along with their hand sanitizer and sanitizing spray – thanks Amy!, Peppermint, Lavender, DiGize, Tea Tree, Eucalyptus, Frankincense, maybe a few others)
Travel sized bottles of shampoo, conditioner, body wash, leave-in conditioner, toothpaste, and face wash.
Vitamin container
A very small Thermarest – I carry this everywhere to adjust bed comfort if necessary.
I have a gallon size bag that I call my night time bag which holds: my kindle, journal and pen, sleep mask, my phone charger, a pair of headphones, thyroid pills, melatonin
*Yes, I have the most things on my list. I know we're all in shock.
After my first run at a trial packing about a week before our trip, I realized we had plenty of extra space so I opted to purchase new full sized bottles of toiletries in the States so we didn't have to find our basics right away over here and pay an extra 30% with the exchange rate. The fantastic part is, almost everything pictured below is a consumable and we won't have to lug it back across the pond. Even though our larger bags are carry-on size, we had free checked bags for our flight so I didn't have to worry about liquids.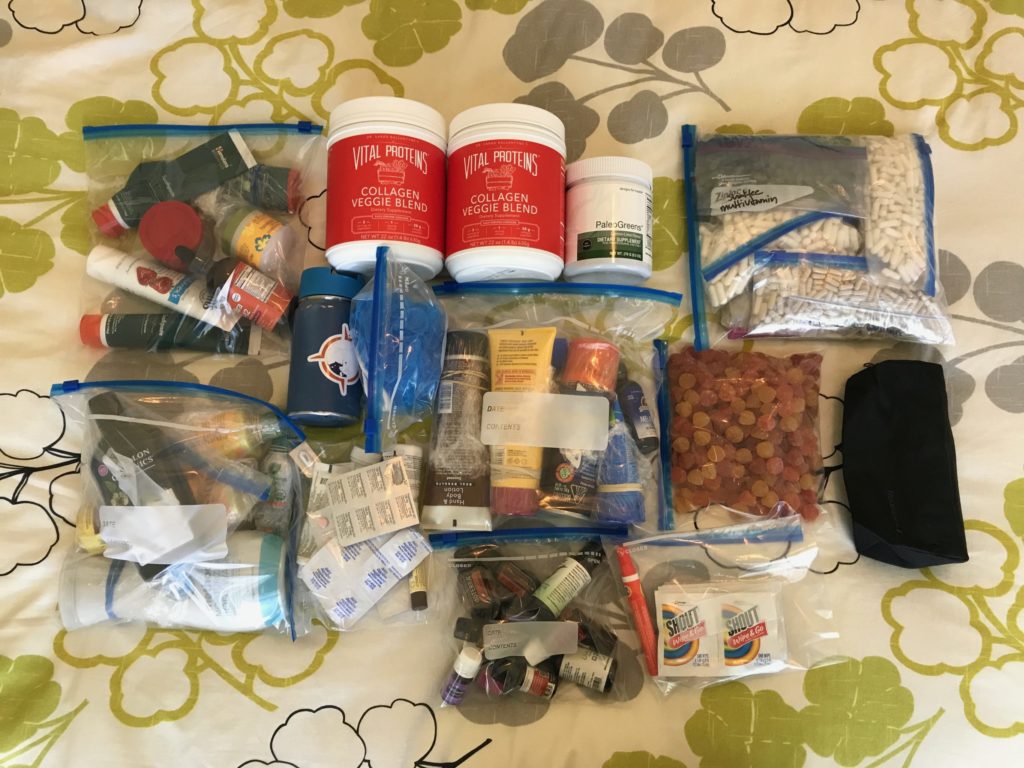 Shampoo
Conditioner
Body wash
Leave-in Conditioner
A loofa
Travis' shampoo
Shaving gel
Hand lotion
2 full sized toothpastes
Kyle's toothpaste
Face lotion
Face wash
Liquid vitamin b12
Sunscreen (1 bottle + 2 small sticks)
Bug spray – have you heard of something called a Midgie?!?
In addition to that (in light of all the space we had left), I packed 3 months worth of Smarty Pants brand vitamins for Kyle, a canister of PaleoGreens, and 2 big canisters of Vital Proteins Collagen Blend. The green powder and collagen blend really came in handy the 2 weeks we were moving around in the Lake District and Highlands when we were eating out non stop and sufficient vegetables were hard to come by. I've been trying to ration them out so they last the whole trip. While we're in Edinburgh and then Dublin for a month each, we're cooking a lot more and enjoying the additional control over my diet.
Other random stuff for hiking, etc: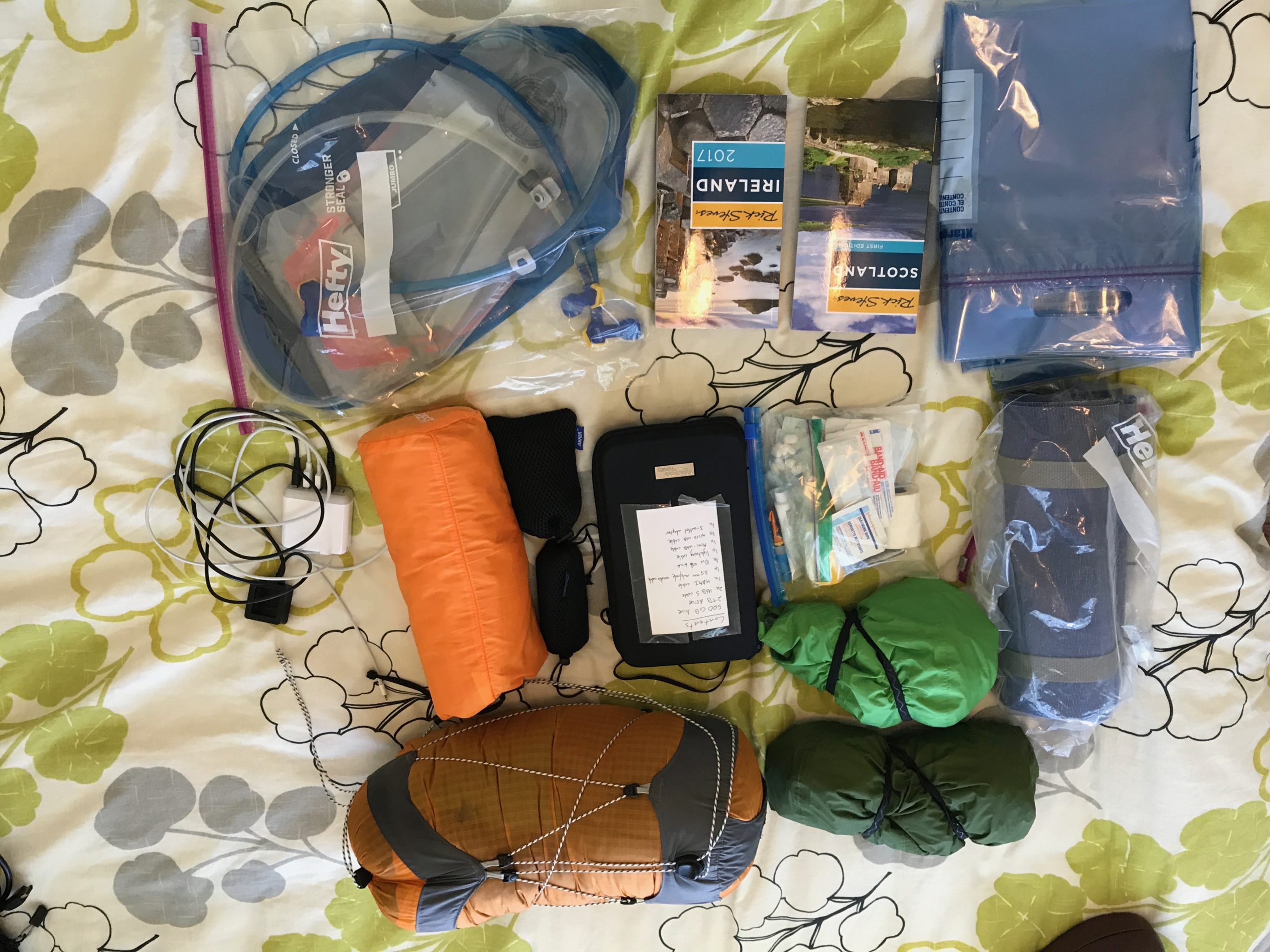 3 camelbacks to fit each of our backpacks
3 reusable water bottles
1 small thermos for me to mix up my powdery greens, etc
A first aid kit
An assortment of meds
Oh, I almost forgot: 3 months of freaking vitamins for me and Travis. They (barely) fit in a gallon sized ziplock and let me tell ya, they were SO much fun to sort, count, and put in baggies. I'll be glad to not do that again, at least for a while.
Shout wipes and a Tide pen
A giant Ziploc bag filled with an assortment of sizes of other Ziploc bags. This is money. Apparently in the UK they don't believe in non terrible baggies. I'm serious.
2 backup USB batteries
2 Rick Steves guide books
A small zipper organizer thing for various cords
2 Giant ziploc bags for dirty clothes bags (1 is in use, 1 saved for when the current one gives out). When you're using packing cubes, you really want your dirty stuff sealed off from everything else.
Kids dramamine and Benadryl. I may or may not have used these for the plane ride over.
Some packing notes:
Our 3 huge down jackets + my black down vest all squished down to fit in this compression sack.
We purchased pretty much the smallest versions of everything we could before leaving, including a new electric razor for Travis that uses a micro usb charger port instead of his old one, which had a proprietary charger. My electric toothbrush was a packing indulgence – it has a proprietary charger.
Our multi usb charger includes 2 proprietary charging cords, one for T's Garmin and one for my Fitbit, a micro usb, and a lightning cable.
Once I got everything we were taking picked out and laid out it took me about 5 hours to get everything in bags. I used a lot of clear Ziplocs to divide things in to logical places.
After writing all that down it seems like a ton of stuff, but it all fit in these 6 bags: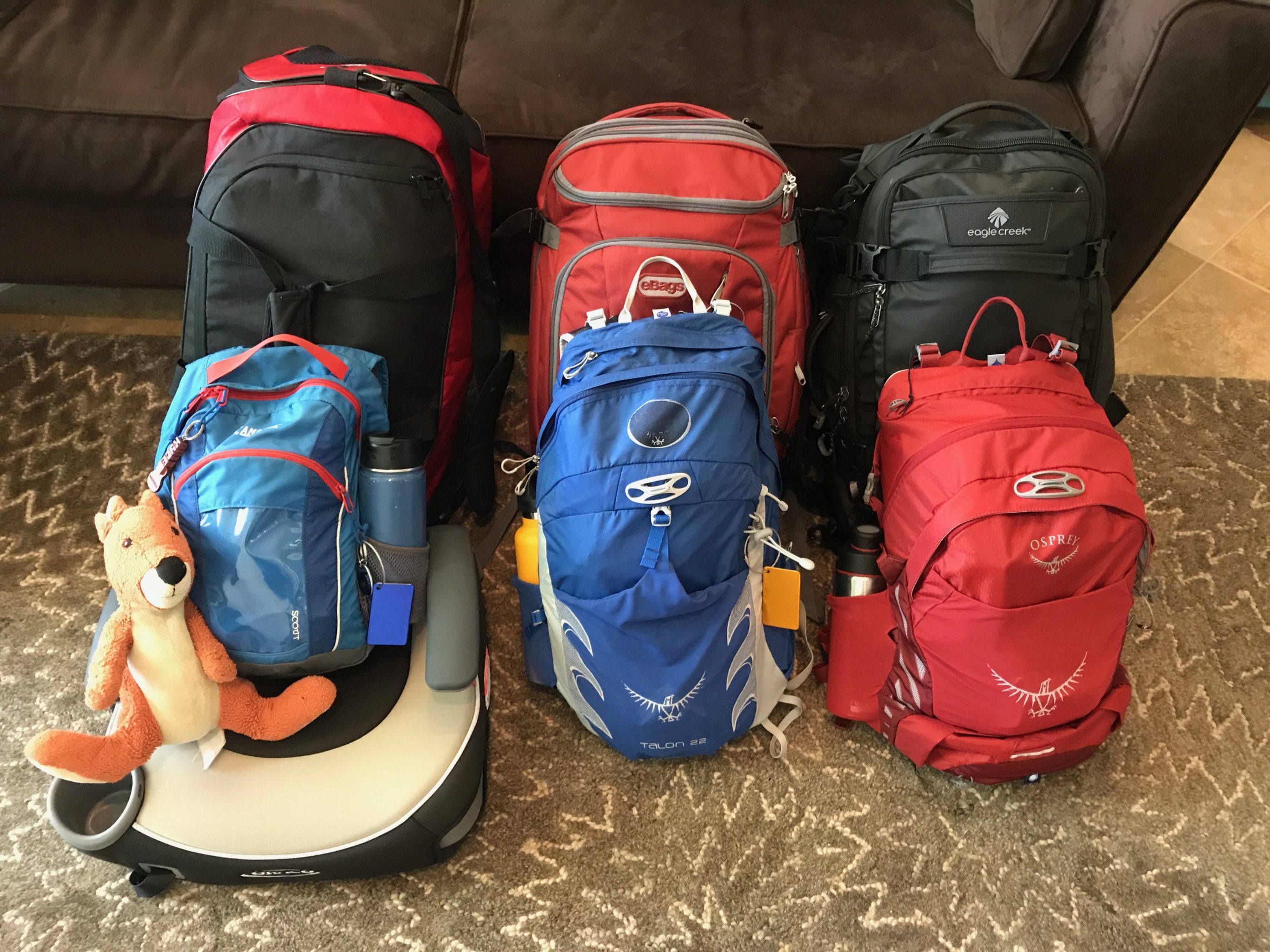 *Apologies for the terrible photo quality across the board in this post. I did my best to snap some reasonable ones for this post as I was packing things up the day before we left, but they're not exactly pro quality…